10 Best Plus Size Sports Bras
25/02/2020
Last week I listed my 10 best sports bras for running. This week I am going to answer another question I get asked a lot; what are the best plus size sports bras? I am not going to re-invent the blog here and plan to follow roughly the same format as previous.
One of the biggest inhibitors to exercise for women is breast pain and we all know the best way to alleviate that pain is to wear a good fitting and supportive sports bra. But what if you are a little bigger than the norm? Historically sports bra companies neglected you when they released their latest range of 8-16 (S-XL) sports bras. Not anymore. There are many great sports bras out there to fit the fuller figure.
Before we delve into my top ten, we first need to answer the question; what is plus size? As a general rule a plus size sports bra is any bra size 16 and bigger. In the sports bra world band sizes are made up to a 26. I am not sure why bra manufacturers think larger women are not interested in exercise but for the time being that's where we are at. If you are bigger then you may have success using a band extender to accommodate a 28-back size.
Here are my Top Ten
Larger ladies shouldn't have to compromise on support and comfort in their sports bras. As such I have used these two criteria as the foundation of my list. My list is a 'crop free' zone as they may be comfortable but as a rule, they get a thumbs down for support. Great as a lounge bra but not so great for exercise.
This list is broken into two sections. Top 5 wirefree and top 5 underwired. Why you ask? Over the years I have found that of all sports bra features this is the one that most women are set on. You either love underwire or are a wirefree fan. If you are a fence sitter take a look at 'underwired or wirefree sports bras' to help you find the right side of the fence for you.
I'd also like to say, I received no financial incentives from suppliers to get their bra on the list. This happens a lot when 'best product' lists are formulated. Thus, lists are often biased and do not offer the absolute best of advice. These are my picks from a life of sports bras.
Read on to see my top 5 + 5 = 10.
My Top 5 Plus Size Wirefree Sports Bras
I am a big, big fan of this sports bra and the feedback I have received on it is outstanding. It is made up to a 24 back and is perfect for larger women looking for comfort and support. It's called the 'Extreme Control' for it's shaping function giving you an attractive bust shape with maximum support.
Like all Anita bras it is made from high-tech material that is lightweight and comfortable. A wirefree number one for me!
Main Features and Benefits:
Anita sweat management and breathable mesh back helps keep you cool and dry.
Outside of highly functional pique fabric for quick moisture absorbtion and transportation. Inside seamless hydrophilic towelling for extra support and comfort; does not chafe the breast.
Three-section outer cup with sickle-shaped supporting section at the sides to enhance the shape of your breast.
Ergonomically tailored comfort straps with simple adjustment, padded throughout to prevent shoulder and neck discomfort and provide firm support.
Soft microfiber underbust band that provides firm support and moulds to your body's contours.
Suits 12 – 24 backs and D-G cups.
This bra is an easy second for me. It accommodates up to a 24 back and is so supportive. Glamorise give it a high / extreme impact rating and I would have to say they are not far off the mark.
I especially like how you can adjust the bounce control on the go with an easy to use outer panel adjustment. Simply ratchet up the support with a quick unclip / clip. Comfort is not compromised either. It feels soft against your skin and the wide shoulder straps help alleviate shoulder soreness.
What more can I say; I wear it and I love it. A thumbs up from me!
Main Features and Benefits:
With its patented front adjusting outer panel this bra allows you to set the bounce control you require so you're locked and loaded no matter what you do.
This sports bra has a wire-free inner bra that gives support & bust definition while the outer panel allows you to adjust bounce control according to activity level.
It also features non-slip adjustable straps and a two-way stretch back designed to move with your body.
As you heat up this bra will keep you cool and dry with its quick dry seamless moulded inner cups that wick moisture away and feel soft against your skin.
The Adjustable Wire-free Sport Bra combines the Magiclift® criss-cross design on the inner bra with the adjustable bounce control outer panel to provide superior lift, bust definition and support for all levels of activity.
Suits 10 – 24 backs and B-H cups.
Next on the list is the Active Multi from Shock. I am a bit of a Shock fan so can be a little biased towards their bras. They really do know how to make great sports bras.
Why then isn't it higher up my list? Simply because it only goes up to an 18 back. If you are a smaller back, then move this bra to number one. After all it was voted number one by Runner's World Magazine.
It is a fantastic all-round sports bra that offers great support and comfort. I do love the padded straps and racerback design. I always look for that little bit of extra comfort and support when I exercise and this bra offers that.
Main Features and Benefits:
Fully back opening for easy on and off.
Powermesh side panels for breathability.
Double anchorage points at the back.
Shaped, adjustable padded straps for your added comfort.
Made from moisture-wicking, breathable, high performance fabrics to keep you dry and fresh during any activity.
Racer back style gives you extra support and a greater range of motion.
Crop top design with integrated sports bra support.
Shaped, adjustable padded straps for extra shoulder comfort.
Suits 8 – 18 backs and B-HH cups.
How can I have two bras at number 4 you ask? Simple, they are essentially the same design with slight adjustments to suit different cup sizing. Add the two together and they accommodate D-K cups. Impressive!
Now this bra wins the comfort battle. It's so soft and being made from 100% cotton keeps you cool and fresh. The downside is that it does not offer the same support as the bras listed above. Royce list it as High Impact but I would say that is at a stretch (no pun intended).
Main Features and Benefits:
The wireless cups are lined for modesty and are padding free.
Soft touch hook & eye closure with 4 eye adjustment giving you greater flexibility of fit.
100% cotton, with excellent wicking properties to help keep you cool and fresh.
The underband elastic is fully encased with soft cotton fabric for a comfortable fit against the skin.
Double layer fabric allows perspiration to be carried away from skin.
The straps are foam lined for added comfort.
Structured cups provide firm support to reduce all movement whilst a high neckline (slightly lower than the original Impact Free) ensures full coverage of the bust to reduce vertical bounce.
The fit is both compressive and encapsulating limiting breast movement giving you total support.
Wide elastic underband provides great support.
Suits 10 – 18 backs and D-K cups.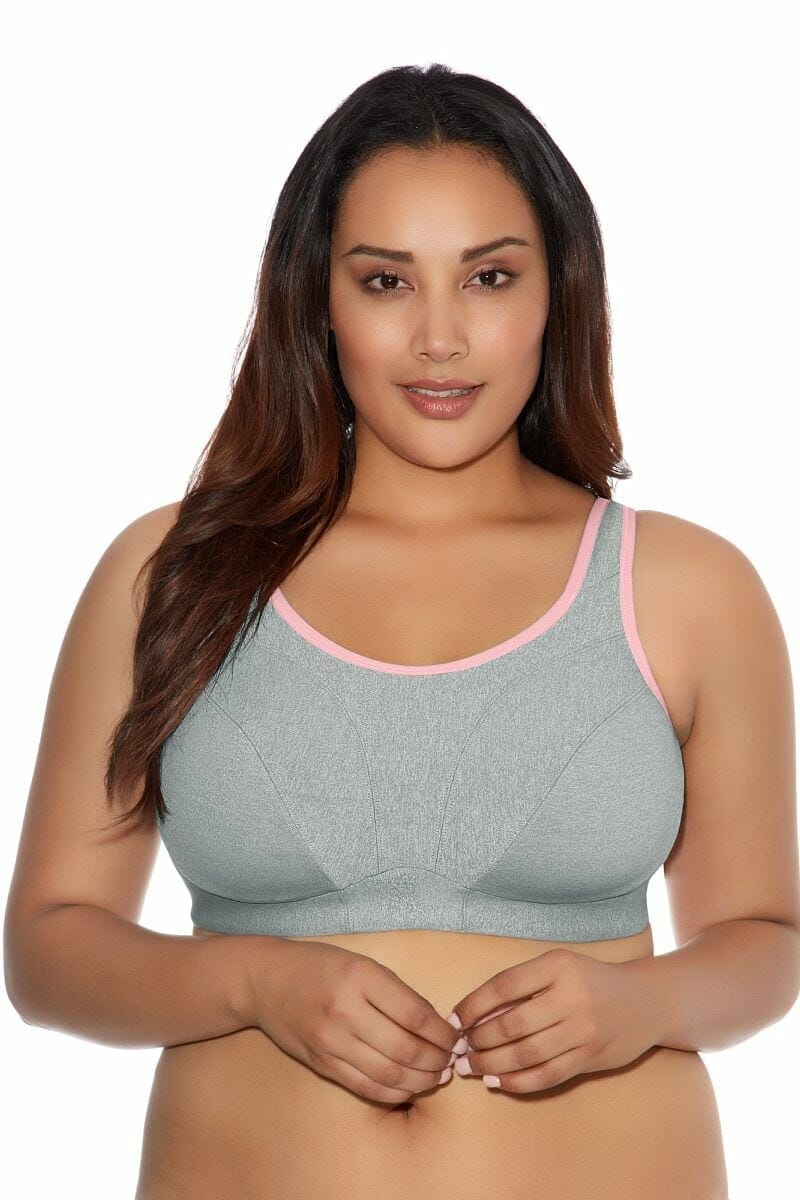 Number five on the list is another sports bra that lacks a bit in support. 'You're not selling it to me so far' I hear you say. What it lacks in support it makes up for in sizing. Covering from an 18 up to a 26-back size it wins the sizing game hands down. It is specifically designed with the needs of larger ladies in mind.
It's only a medium impact bra so offers good support but not great. Goddesses big advantage is comfort. The wide band and full coverage helps keep everything in place all day long.
A good sports bra to round out my wirefree top five.
Main Features and Benefits:
The cup lining has antibacterial protection for odour control.
A tall centre front provides coverage and helps reduce breast motion.
The wireless multi-part cups are lined with breathable knit fabric and have angled seams for shape and control.
Wicks moisture away to keep you feeling cool and dry.
The front of centre pull straps is padded and non-stretch whilst the back has restricted stretch, exposed elastic straps with adjustable coated metal hardware.
Tall smoothing sides are two-ply stretch knit with covered elastic edges for secure fit.
The back is supportive and has kicked-in straps that are less likely to slip.
The Soft Cup Sports Bra also has a supportive, covered elastic underband for added support.
Suits 18 – 26 backs and C – G cups.
Honourable mention:
Once again, I am going to include an 'honourable mention' as this bra only just missed my top five.
It's another great bra from Anita. So lightweight and comfortable it feels so good on. Living in Australia I am a big fan of lightweight bras to help keep me cool and this bra is just that. Best thing is you don't compromise on support. Anita's high-tech materials and design put this bra in the high / extreme impact support range.
Main Features and Benefits:
The padded straps attach to elastic that adjusts in back with laminated plastic hardware that won't slip during high impact activity.
The cups have an inner lining of hydrophilic towelling and are seamlessly shaped with angled seaming that provides shape to bust.
The sides and back are made of ventilated stretch mesh, with covered elastic at top edge.
This bra features highly functional pique fabric and netting inserts in the back to regulate moisture absorption keeping you cool and dry.
The wide, semi-elastic support straps are padded throughout and adjustable at the back.
The fabric is designed for fast moisture absorption and release to help keep you cool and dry.
Designed with a high-cut centre front panel to contain you and provide extra strong support this bra also has side support panels to help keep your breasts centered.
The soft, non-roll underband with logo at bottom right provides additional support.
The Momentum Wirefree Sports Bra's seamlessly pre-shaped cups provide perfect support through to large sizes.
Suits 10 – 20 backs and C-G cups.
My Top 5 Plus Size Underwired Sports Bras
OK onto underwired and Glamorise has slipped into top spot. Is that because Anita don't make many underwired styles you ask? Most likely yes. That said this is a damn good bra for larger ladies.
It offers great support and comfort when you're working out. I particularly like the Wonderwire technology. Glamorise have done a great job of designing the bra to give you the benefit of underwire but the softness of wirefree.
If you're after a great all round underwired sports bra in a larger back size then it's hard to go past this one.
Main Features and Benefits:
The adjustable shoulder straps help give you a perfect fit with no shoulder ache while the two-way stretch back moves with your body to keep the bra in place.
The double layer cups with the integrated Wonderwire® design prevents the wire from ever touching your body. Feel supported in comfort like never before.
Features seamless outer cups made of non-stretch material.
Look and feel great while moisture wicking fabrics keep you cool and dry when it matters most.
Suits 10 – 24 backs and B – F cups.
OK next on my list is the Elomi Energise. Wow, what a bra. It's specifically designed for fuller figures and larger cup sizes and offers great comfort and support. So why didn't it make number one? In my opinion it is ever so slightly bettered by the Galmorise in the comfort and support department.
It's a great bra in its own right. Just not number one.
Main Features and Benefits:
Full coverage and support.
Regular back fastening for easy on and off.
Newly added J Hook on the straps for conversion to racerback.
Each breast is supported individually giving great shape and separation.
Made from a super-smooth microfiber fabric, which wicks moisture away.
Two-ply construction in the cups for uncompromising support.
Four section cups with side support panels, encapsulate rather than compress the bust, giving amazing support and great separation, no more uniboob!
Suits 10 – 24 backs and D – K cups.
Number three is one in the more affordable range. I have deliberately ignored price when compiling my top 10 but thought it worth noting that this is a very good sports bra at a better price than many others on this list.
One of our most popular styles, the Performance sports bra offers great support up to a 22 back. It's designed to meet the needs of real women and is perfect for larger back sizes.
Main Features and Benefits:
Features innovative eco fabric that allows breathability to reduce sweating.
Top panel has rigid lining to significantly reduce bounce during sporting activities.
Adjustable straps for different levels of activity.
Traditional back fastening with hook and eye closure that is padded for comfort.
Moisture management fabric wicks moisture away keeping you cool, dry and comfortable.
Double layer cups with rigid top panels reduce bounce and provide an extreme level of support.
The Performance Sports Bra has the option to cross the straps giving you additional support.
Quality fabric allows softness and comfort, as well as prolonged life.
Suits 10 – 22 backs and C – F cups.
OK next on my list is the Freya Epic. It is unfortunate this bra isn't made in larger back sizes as it is 'da bomb' (am I to old too say that?). If it was move it to number one!
Why? Quite simply the support it offers. Freya reckon it can reduce independent breast movement by 92%. I don't know about that, but it certainly does a good job of keeping your assets in check. It's surprisingly comfy for an underwired bra too (there's my wirefree bias again!). All in all, a great sports bra and a definite 'game changer' for larger women.
Main Features and Benefits:
High performance with full coverage from a centre front extension that keeps you in place.
Perforated foam cups for smooth breathable shaping.
Soft hook and eye closure with four rows for a flexible fit.
Slide hook fastening allows racer back option with quick and easy dressing. Get workout ready fast!
COOLMAX® fabric in the inner bra combined with microfibre wicks moisture away helping keep you cool and dry.
Subtly positioned mesh panels offer further cooling comfort.
The adjustable padded straps help keep your shoulders comfortable and reduce neck & shoulder strain allowing you to perform for longer.
Soft thread seams reduce friction against the skin.
Soft, wide bottom band for your support and comfort.
Wide curvature underwire in puncture resistant casing reduces pressure against the body.
Suits 6 – 18 backs and D – H cups.
Berlei make great sports bras but I am not normally a fan of the support level they offer for high impact activities such as running. This bra breaks the mould. It ups the support factor whilst maintaining the comfort. Well done Berlei you have created a winner here.
Main Features and Benefits:
Berlei states it has a Support Factor of 4 – Extreme Impact; reducing breast bounce by up to 60%.
Sides and back have encased elastic at top edges.
Patterned mesh overlay around cups and on sides and back.
Center panel – tall and narrow for containment, with arched centre underside for high tummies.
This sports bra is made to reduce chafing and will keep you dry during the toughest exercises.
Wide adjustable straps help to stabilise and minimise bounce whilst enhancing support.
The cross over functionality delivers additional support and flexibility under clothing.
Multi-part encapsulated underwire cups feature angled seams for shape and support during even the most strenuous workouts.
Covered elastic underband stabilizes bust and adds support.
Cotton-lined cups for comfort.
Suits 10 – 18 backs and C – F cups.
Honourable mention:
Ok we are back with Freya. In my opinion they are the queens of underwired sports bras and this bra is a princess (see what I did there!). Being a medium to high impact bra it's not as supportive as its sister the Epic. It's less bulky than the Epic and the smooth moulded cups give a nice breast shape and great under shirt look.
It's soft and comfortable. All in all, a great underwired sports bra perfect for larger women.
Main Features and Benefits:
Multi-part moulded cups made from breathable non-bulky spacer fabric.
High performance with average breast coverage. Gives you a smooth silhouette.
COOLMAX® fabric in inner bra and microfibre wicks away moisture helping keep you cool and dry.
Mesh panels for cool comfort.
Wide built up padded non-stretch straps for comfort and support.
Soft hook and eye closure for extra comfort.
Wide curvature underwire supports your breasts without compromising comfort and mobility.
Double lined for firm support.
Firm flat bottom band ensures good anchorage and stability.
Encapsulates the bust providing you with great shape and support.
The Sonic Underwired Spacer Bra can be worn with the back converted to racerback style for added support and to prevent strap slippage.
Suits 8 – 18 backs and D – GG cups.
So, there you have it. My 5 + 5 = 10 done and dusted. As always, the perfect sports bra for you is very much a personal choice. What works for your training partner may not work for you. Use this list as a guide and hit your weekly class with the ultimate in support and comfort.
In closing can I say that no single sports bra can offer you complete support. The very best advertise 80-90% bounce control and over a long run that 10-20% can add up.
In my opinion a must have running accessory is the Pinkclover Breastband.  This athletic breast support band is designed to work with your sports bra to provide the complete support solution for holding your breasts in place preventing bounce and breast damage while you exercise. You will love it!
Yours is support.
Amy