Sports Bras for Cycling
17/07/2019
So you're after a Sports Bra for cycling. Most of us when we think of cycling conjure up an image of the lycra clad folk spinning down the road in the morning traffic. Not much bounce there but you'll still need support. Take things off road and the bounce can become truly uncomfortable. Your mountain bike has shocks so a great bra is required to help absorb the bounce.
So how do we go about choosing a suitable sports bra for cycling? Let's take a look at the key factors.
Fit Comes First
 The first rule of sports bra buying is that 'Fit Comes First'. If your sports bra doesn't fit well it may be uncomfortable and will not do what it is designed to do; support you! So it is important to know your size. Bra size often differs from dress size so the best way to find your perfect fit is to do a measure.
Holding a tape horizontally measure around your chest directly below your breasts; your underbust. Then measure around the fullest part of your breasts; your overbust.  Armed with these two measurements you can determine your size. Head over to our Fitting Room for sizing and more info.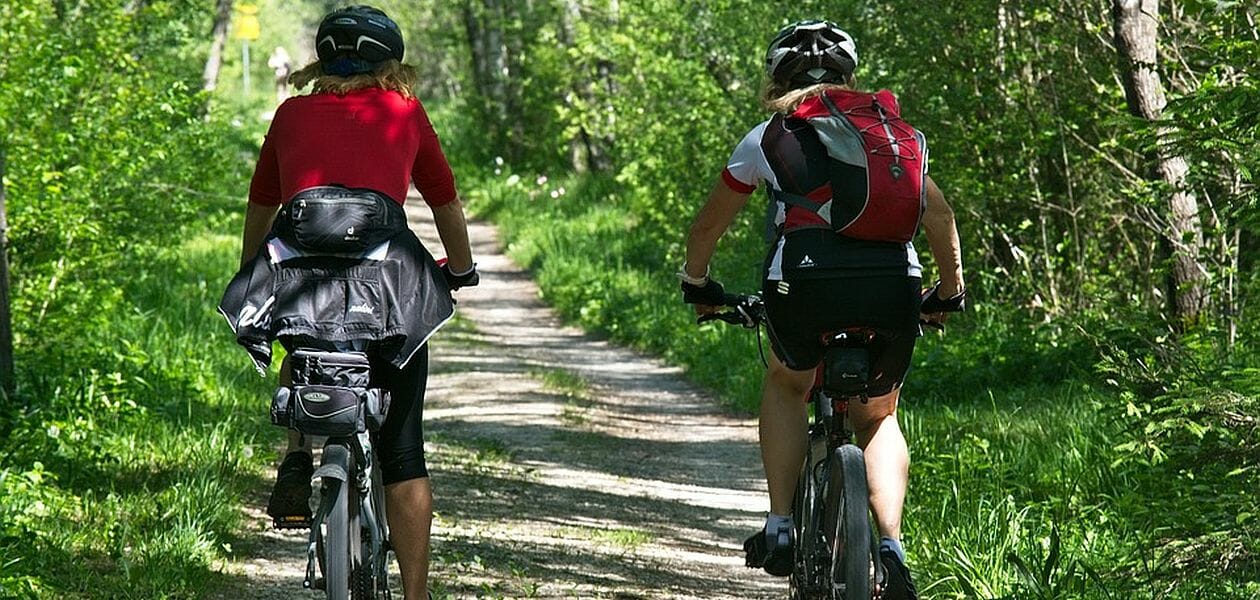 Understand Impact Levels
 The second rule of sports bra buying is no matter your bust size you are going to need support. The level of support will depend on your size and your chosen cycling type. The bigger the girls the bigger the bounce and the more off-road you go the more support you'll need (unless you live near me, the tarmac roads are terrible!).
Sports bra support is measured in impact levels. Low, Medium & High Impact. A Low Impact bra offers the least support and would do for easy pace road cycling or a cycle commute to work. Middle of the road Medium Impact bras would suit most road cycling activities. Choose one of these if you a regular recreational cyclist looking for a good level of support but don't want to be totally locked in. If you fancy a day hitting the trails on your hardtail then you might want to consider upgrading to a High Impact model to ensure your girls are locked in as you hit the jumps.
Breathability
 So you know your size and your impact level. Next you need to decide on material. Your choice will depend on the intensity of your cycling, how your body behaves and the climate where you live.
A road rider in Cairns will want a sports bra that is light, breathable and fast drying. The Anita Active Air Control comes to mind, super lightweight and breathable. It will keep you cool, comfortable and supported. A bike commuter in Hobart might need something less supportive made from thicker material or with light padding to keep out the wind chill. The Champion Show Off would be perfect.
Choosing the Right Style
Modern sports bras come with so many different features it can sometimes be overwhelming. Don't complicate things. Most of us know what we like in a sports bra; Padded, Underwired, Pullover. It is no different when selecting a sports bra for cycling.
That said there a few couple of things to remember.  You should choose a sports bra that does not restrict your movement. Racerback styles allow good freedom of movement in your shoulders whilst giving you better support. A win, win. You may find Wirefree styles offer greater comfort through a long day in the saddle. Modern wirefree bras offer the same support as their underwire cousins so don't be afraid to give them a go.
So there you go all the info you need to find the perfect cycling sports bra for you. To make things easier we've organised all our Cycling suitable sports bras in to one convenient location to help you find your perfect sports bra.
Happy Cycling!