A Spotlight on Maternity Sports Bras
12/09/2017
While I was pregnant I often heard that exercising for 30 minutes or more a day during pregnancy and breastfeeding is important to stay fit and healthy. Helping you feel good.  Try telling my swollen tender boobs that!  Even brisk walking was uncomfortable for my sore breasts during pregnancy.  The only exercise I managed in comfort was deep water running as the water was very supportive!
Once my beautiful baby arrived and we had settled into something that resembled a routine. I was keen to get out and exercise.  I enjoyed being active again but needed to wear a full coverage firm support sports bra. Which was impossible to feed in.  This personal experience was my motivation to help pregnant and nursing women find stylish, supportive sports bras. That could be worn during and post pregnancy.  It's also important that you have the option to be able to easily breastfeed whenever required. If you choose to.  Thankfully Maternity sports bras have been revolutionised so women can now combine fantastic support and comfort in a style that looks great too.
Whats the difference between a maternity sports bra and a regular sports bra?
There are a number of differences that most maternity sports bras provide;
– Structurally designed to provide additional support for tender breast tissue.
– Wirefree or Flexible Underwires so there isn't any restriction on the breast tissue.  The Flexi Wires are designed to bend/flex more readily to help provide additional support without increasing the risk of blocked ducts or mastitis.
– Often wider straps for greater comfort.
– More hook and eye options to allow for some expansion of the ribs and diaphragm during pregnancy.
– Some lower impact Maternity Sports Bras that are designed for Yoga style exercise have a stretchy band rather than hook and eye fastening to stop clasps digging in when you are laying down.  Many women find these really comfortable to sleep in too.
– The weigth of each breast is supported, not squashed or flattened in the bra.
– Easy access to give you the choice of being able to easily breastfeed.
When should you consider switching to a maternity bra?
By the end of the first trimester, breasts have usually undergone a significant change in size.  Hormones which lead to these early breast changes tend to settle after about 4 months.  When your breasts begin to noticeably swell. And you no longer fit into your existing bras, it's time to make the switch.  This usually coincides with your waistline growing and your standard pants no longer fitting! It is essential to measure and check your size to ensure a good fit.  Even if you have been pregnant before it is important to measure again as the rate of breast growth can be different for each pregnancy. So you may actually need a different maternity sports bra.
Some of our Popular Maternity Sports Bras:
This is a really supportive wirefree bra, suitable for high impact activities.  It offers great coverage to the front with easy drop down cups to make feeding your baby incredibly easy.  The convertible straps also ensures it works with any of your favourite tops. Having the straps crossed over does increase the level of support.
Part of abi and joseph's Maternity Range and designed for active nursing mothers this medium impact wirefree maternity sports bra features a regular back, one hand action nursing clip with drop cup sling, wide adjustable straps and removable cups.
This popular Hotmilk bra uses flexible underwire to support each breast and provide great shaping.  It is designed for high impact activity and uses a coolmax cotton blend fabric to wick moisture away and keep you cool and comfortable. One handed drop down cups allow you to breastfeed and the 6 hook and eye fastening allows for expansion of your ribcage.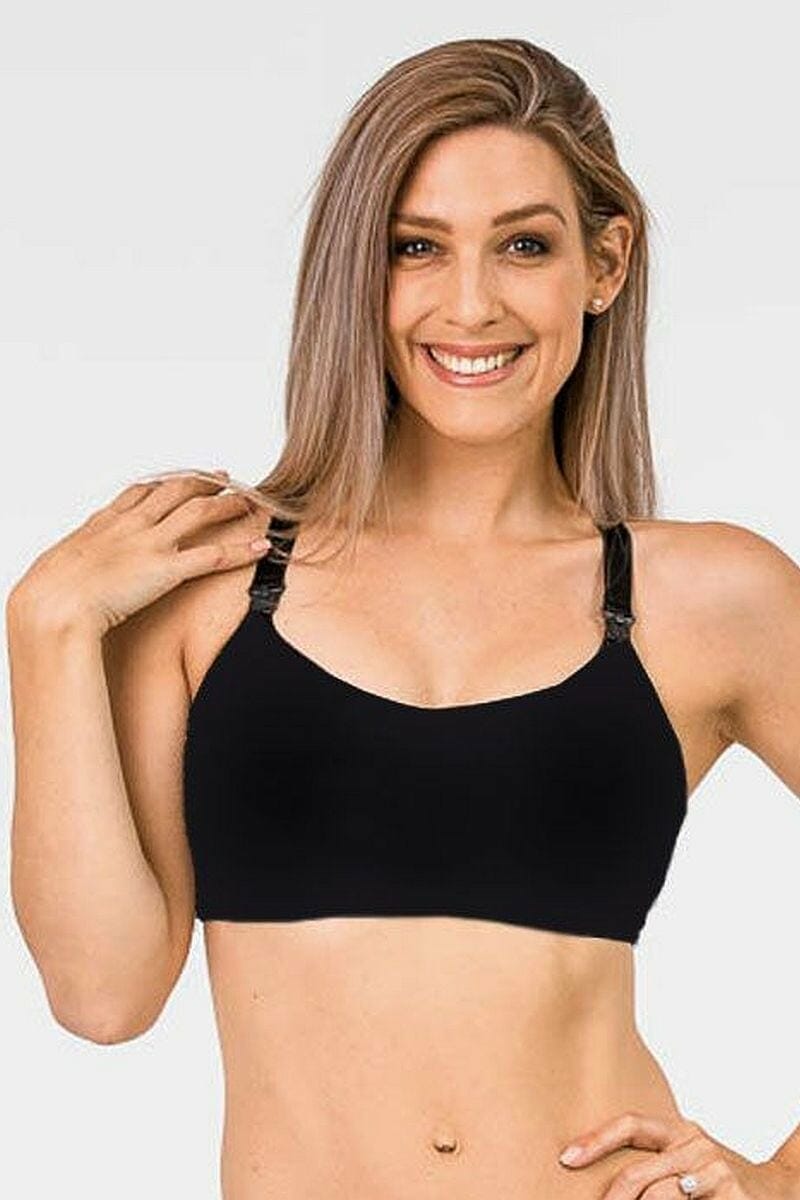 Cadenshae offer two high impact maternity sports bras.  The Fit2Feed is suitable for A-D cups and is so comfortable it can be worn as an everyday bra too.  The soft material is lightly padded for extra modesty and protection against leaks.  The stylish racerback provides extra support and the cups have a full cover sling and drop down cups to feed bub while you are on the move.
This bra from Cake features moulded cups and flexiwire to provide optimum high impact support.  The material is incredibly soft, almost like a soft suede feel which makes it incredibly comfortable whilst still keeping you cool and dry during your workouts.  Each cup has an inner sling for feeding and there are additional hook and eyes to allow for any changes in your ribcage.
It is fantastic that there are now stylish and high quality maternity sports bras available so that mums can stay active during and post pregnancy.  It is great to know that your breasts are fully supported giving you the freedom to choose your activity and still breastfeed your bub if you choose to.